---



---
LATEST NEWS: (16 MAy 2006)

GET YOUR COPY OF MUZIK MAKER V1.0 (Normally - $9.45 (£5.00))FREE!!!

SPECIAL OFFER!!!

Only Require You To Complete Simple Free Registration.

PROMO BOX

Like This Site??

Want A Site Designed For your company or personal use? contact me.

Cheapest Prices On The NET Gauranteed.

---
Now You Can Start Making Your Own Banging Tunes With Just A Few Clicks!!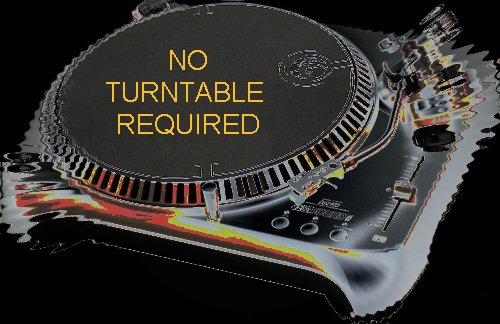 What Is Muzik Maker?
Muzik Maker is a loop based music and sample creation utility. You can use the samples included or import any of your own wav or mp3 files to the program. There are six main loops which can be selected on screen but the keyboard can also be used thus allowing you to play over 18 sounds simultaneously. You can easily create dance, Hip-hop, techno or any genre of music you want the only limit is your creativity and your sample sets.
Features:
Beginners can get composing straight away using the quick start guide.

Advanced users have a whole host of functions available allowing them more overall control over the sound played.

Record your songs straight to your drive. This can then be encoded to MP3 and you'll have your own song.

The samples included are freeware therefore you can do what you please with your song, share it with your friends, publish it over the internet or even make money with it!

User friendly interface which is completely customizable. This includes program skins, use one of three included or download loads more FREE from the forums. Buttons can also be customized easily.

All resources in the program can be downloaded from the online forums this includes samples, skins, patterns, presets, projects and sets!

Create your own sample sets and groups and upload them to the official forums!

Three mixers each with six effects including compressor, flange, chorus and echo!! Create some amazing sounds using a combination of effects!

Pattern Play Mode - allows you to individually program each loop and get the samples to play in the order you want. The most useful function in creating your songs.

Record to pattern files - These can then be saved and used next time or uploaded for others to use.
Free online help and support available via the official forums or email.
Do I Get Anything Extra With The Program?
Yes. You get FREE unlimited access to the official forums from where you can download hundreds of royalty free samples (please note samples packs these days can retail from £40 each). You Will Receive FREE unlimited updates and patches to version 1.0. Therefore if any changes are made to v1.0 or if any patches are released you will be emailed a newsletter detailing download links for these.
---
DEMO
Below is an actual screenshot from the demo version, which shows the MM Metallic Skin.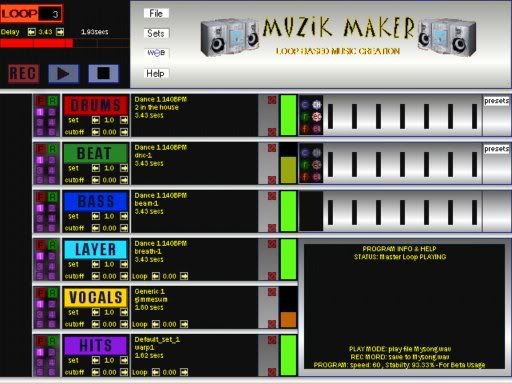 Download from Mirror (1).
TRY IT BEFORE YOU BUY BUT PLEASE NOTE SOME FUNCTIONS WILL HAVE BEEN DISABLED SUCH AS PATTERN PLAY/REC MODE WHICH ARE THE ONE OF THE MOST VERSATILE FUNCTIONS OF THE PROGRAM

---
OFFICIAL MUZIK MAKER FORUMS
CLICK HERE TO ACCESS THE FORUMS!
View My Stats
---
------------------> LINKS AND SPONSORS. <------------------
TO GET YOUR BANNER OR SITE LISTED BELOW EMAIL ADMIN@DEFUZION.CO.UK

---

Copyright © 2006. RAF CREATIONS.